Tony Alva (born September 2, 1957) is one of the original Z-Boys and is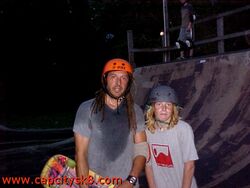 considered to be one of the most influential skateboarders of all time.
Life and Career
Edit
---

He was born in Santa Monica,California and comes from a Mexican-American family.[1] The level of aggression with which Alva skated was in stark contrast to the traditional style of the era which was still based around tricks formulated in the 1960s. Alva and the other Z-Boys were among the first to bring skating empty pools into the mainstream. In these early days, it was noted that Alva was hitting the lip so hard that he was actually taking off, hence Alva is often credited for the first recorded aerials, a frontside air, although Alva himself claimed that George Orton was the first to perform aerials (Skateboarder magazine, July, 1978).
In 1977, at age nineteen, Alva shunned the major skate companies to form his own skateboard company, Alva Skates. Alva's company was the first company ever run and owned by a skateboarder as well as being one of the first to use layered maple plywood for the skate decks. The same year he was voted 'skateboarder of the year' in Skateboarder Magazine's readers' poll and he set the Guinness World Record for barrel jumping.
Alva is featured in the documentary on Venice Beach skate culture Dogtown and Z-Boys which was fictionalized into the 2005 feature film Lords of Dogtown. He also played the role of Tony Bluetile in the 1978 film, Skateboard: The Movie.
Tony Alva recently signed a three year deal with Vans shoes and his new pro model high top was released in 2006. He is also sponsored by Independent Trucks and Vestal Watches. Tony also played bass in the band The Skoundrelz, which featured ex-Suicidal Tendencies members Mike Dunnigan and Mike Ball as well as ex-member of Wasted Youth Dave Hurricane.
Tony Alva was recently featured in the video game, Tony Hawk's American Wasteland.
In December 2005, Tony Alva opened two stores in Southern California locations. The Alva Shop stores are located in Oceanside near San Diego, California and, the other Alva Shop was opened in Los Angeles on Fairfax Ave. In December 2006, he celebrated the first anniversary of the stores with a party at the Los Angeles Alva Shop attended by some of the old Z-boys, current Alva Team members, MySpace friends, skate fans, some minor celebrities including "Ryno" Ryan Opray of Survivor, and members of the general public. Tony signed autographs and served as DJ for the catered event. The evergreen bad boy image of the legendary Z-Boy was present in the publicity post card invitation for the Alva Shop 1 Year Anniversary Party which featured a drawing of a hand flipping the bird with a lit wick coming off of the end of the middle finger as if it were a birthday candle.