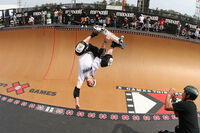 Mike McGill (born 1964) is an American skateboarder. He is best known for inventing the McTwist, an inverted 540 degree mute grabbed aerial which he first performed on a wooden half-pipe in Sweden in 1984 and then at the Del Mar Skate Ranch in a concrete bowl when he returned to the US. He was inspired by Fred Blood, who had performed a 540 on roller skates. It was a groundbreaking trick that dominated skateboarding for many years afterwards. Only a handful of pros were able to learn it at the time. The trick was named by fellow teammate Rodney Mullen, and is derived from "Mc" in McGill's last name combined with Twist, which had already been coined by Lance Mountain and Neil Blender with their invention of the Gay Twist – a Mute grabbed fakie 360 degree aerial. Fellow teammate Tony Hawk, inspired by the McTwist, went on to invent a 720 degree aerial, (essentially a double Gay Twist), and as a homage to McGill, named it the McHawk.
McGill was also a member of the Bones Brigade, an elite team of skateboarders sponsored by Powell Peralta who dominated much of professional skateboarding (both in contests and in popularity), for much of the 1980s. McGill mainly skated vertical, and when street skating began to dominate the industry, McGill turned to the business side of skating. He started his own skateboard company, "Chapter Seven" (which is now defunct), and opened his own skate park. Today he owns a skate shop in Encinitas, California McGills Skateshop [1] , as well as marketing a line of beginners' skateboards, safety equipment and portable skate ramps, rails, and Air Speed skate shoes through Wal-Mart [2]. In 2006 McGill was featured in a commercial for the Discovery Channel as the inventor of the McTwist. [3] McGill has also teamed up with Powell Peralta and reissued his signature boards from the 1980s. He continues to skateboard.
Community content is available under
CC-BY-SA
unless otherwise noted.