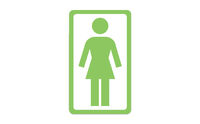 Girl Skateboards is a Torrance, California based skateboarding company that was started in August 1993 by Rick Howard, Mike Carroll, Megan Baltimore, and Spike Jonze. Their primary product is professionally endorsed skateboard decks. They also make shirts, hats, skateboard wheels, hoodies, trousers, bearings, belts, wallets, skateboarding films and many other accessories. Their logo is the same as the symbol on many women's restrooms.
Girl is part of the Girl Distribution family, which also includes Chocolate Skateboards, Lakai Footwear, Royal Trucks, and Four Star Clothing, Crailtap, Ruby Republic, and Skate Mental.
Team
[
]
Professional team
[
]
The current professional team is comprised of Brandon Biebel, Cory Kennedy, Mike Mo Capaldi, Mike Carroll, Rick Howard, Sean Malto, Guy Mariano, Rick McCrank, and Jeron Wilson.[1]
Previous team riders
[
]
Team riders who have since retired include Rudy Johnson, Sean Sheffey, Jovontae Turner, Tim Gavin, and Tony Ferguson.
Other previous team riders include Colin McKay, Jereme Rogers, Bill McCrowly, Eric Koston, and Paul Rodriguez Jr. who all now ride for Plan B Skateboards except Koston.
Videography
[
]
Goldfish

(1994)

Mouse

(1996)

Harsh Euro Barge

Yeah Right!

(2003)

Badass Meets Dumbass

(2006) (promo)

Beauty and the Beast

(2008) (with Anti-Hero)\
External links
[
]