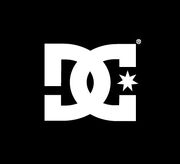 DC Shoes is an American company that specializes in footwear for extreme sports, skateboarding, snowboarding as well as snowboards, shirts, jeans, hats, and jackets. The company was founded in 1993 by Ken Block and Damon Way, and is based in Vista, California.[1] DC originally stood for "Droors Clothing", but since the sale of Droors Clothing (which is now defunct), DC no longer has ties to Droors and is simply DC Shoes.
On March 9, 2004, DC Shoes was acquired by Quiksilver in a $87 Million USD transaction.[2]
DC sponsors snowboarders, BMX riders, skateboarders, and more. The current skate team includes PRO's Danny Way, Josh Kalis,  Rob Dyrdek, Dorien Walker, Colin McKay, Chris Cole,Matt Miller, and AMs  Felipe Gustavo and Marquise Henry
In fall of 2010, DC Shoes launched their DC LIFE collection, a collection of fashion, music and art-inspired footwear. They held a launch party for the DC LIFE collection at the REVOLVE Clothing boutique in West Hollywood, CA.
Now DC has been known all around the world is one of the most famouse brands in America. DC has not only become a skateboard and shoe company, but now clothes, sweaters, jackets, tools and jeans.
Pro Riders
[
]
Rob Dydrek

Josh Kalis

Matt Miller

Wes Kremer

Evan Smith

Mikey Taylor
AM Riders
[
]