Ali Boulala |-
Born
January 28, 1979
Nationality
Swedish and French
Residence
California, but in jail right now
Style
Street
Sponsors
Flip Skateboards, Flip Wheels, Etnies Shoes, Independent Truck Co., Flip clothing.
Status
Pro
Signature Tricks
hippie jump, switch 360 flip, Noseslide nollie backside flip out, switch ollies , etc.
Ali Boulala (born January 28, 1979 in Stockholm, Sweden) is a professional skateboarder who rides for Flip Skateboards, Flip Clothing, Independent trucks and Flip wheels. He is known for his relaxed but flamboyant style and filmed notable parts in the Flip videos Sorry and Really Sorry, Osiris "Subject to Change" and also appeared in numerous Baker skateboards videos.He was one of four of those who got drunk at parties to death. His style is very aggressive, is one of the most respected pro in history for his switch and all it is.
Biography
Edit
---

Born in Stockholm, Sweden, Boulala is of Algerian and Finnish descent. His mother, Raija Boulala, is Finnish.
His approach to skateboarding concentrates on the unusual or unobvious, preferring to skate unfilmed spots and experiment with tricks. He is also famous for his unprecedented attempt at ollieing a twenty-five stair in France. This famous attempt was featured in Flip Skateboard's 2002 video release, Sorry. He is also famous for having a part in all of the Baker Skateboard Videos.
Swedish-born Boulala has pioneered skating manoeuvres, featured in skateboarding videos, featured on the front cover of Transworld Skateboarding magazine and designed his own shoes. About 100,000 skateboards have been sold carrying his name since he turned professional in 1997.
He has a pro shoe with Etnies which features the thinnest cupsole from Etnies with G2 gel. He has since been released from the Etnies roster
Shane Cross Accident
Edit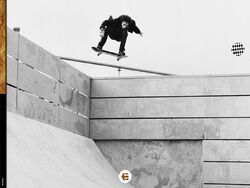 On March 6, 2007, Boulala was the rider of a motorcycle in an accident that killed Flip Skateboards amateur, Shane Cross. When Boulala arrived at a hospital, his injuries were too severe for him to be kept conscious and he was placed in a medically induced coma until his vital signs and health stabilized.
Boulala is currently in jail, and is sentenced for 2-4 years because of Shane Cross' death. (Skateboard Magazine)
Fashion icon
Edit
---
In 2003 Osiris Shoes produced "Ali Boulala" Brothel creeper skateboarding trainers.
Video Appearances
Edit
---
1996: Transworld Magazine - Uno
1997: Transworld Magazine - Cinematographer
1999: Landspeed: CKY
1998: Church of Skatan - Wild in the Streets
1999: Baker Skateboards - Bootleg
1999: Big Brother Magazine - Boob
2000: Baker Skateboards - Baker2G
2001: TSA Clothing - Life in the Fast Lane
2002: CKY3
2002: Flip Skateboards - Sorry
2002: Transworld Magazine - Chomp on This
2003: Osiris - Subject to Change
2003: Flip Skateboards- Really Sorry
2003: Cliché' Skateboards - Bon Appetit
2005: None - Filmbot Files
2005: Baker Skateboards - Baker3
2007: Etnies Footwear - Restless
2007: Zen replay
Upcoming video projects
Edit
2008: Flip Skateboards - Extremely Sorry